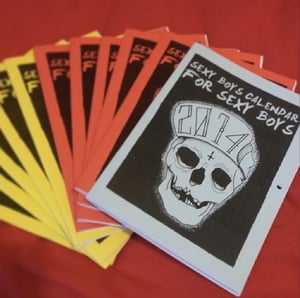 £

4.00
We are really excited / late to announce, The 2014 Sexy Boys Calendar for Sexy Boys! (and charity)
Available to order is a 12 month compendium of the most come-hitherful, libidinous sexy boys that the world / our limited friendship group has to offer. We understand its already January so that is why we have extended the Calendar to include January 2015 too, and because its for a good cause we are hoping that won't deter y'all from purchasing one. Not only do you get 365 days of orgasms delivered intra-visually, you get 365 days of smug superiority from knowing that money raised from the calendar has gone to a worthy cause. All profits raised from calendar sales, will go directly to Bliss, a UK charity working to provide care and support for premature and sick babies. We're not 100% sure they want to be associated with us, but Timmy thought it was a good idea, so they are getting the fucking money.
All orders dispatched within 3 working days, All Swansea orders will be hand delivered in person by a genuine Sexy Boy.
Do the right thing, order, share, live long and prosper.